Service items
1.Container / sale, recycling, repair
2.ISO tank / cleaning, repair, testing , annual inspection 2.5 year/5 year
3.Heating equipment
Chemical sump cabinet Specifications
---
Tank Container :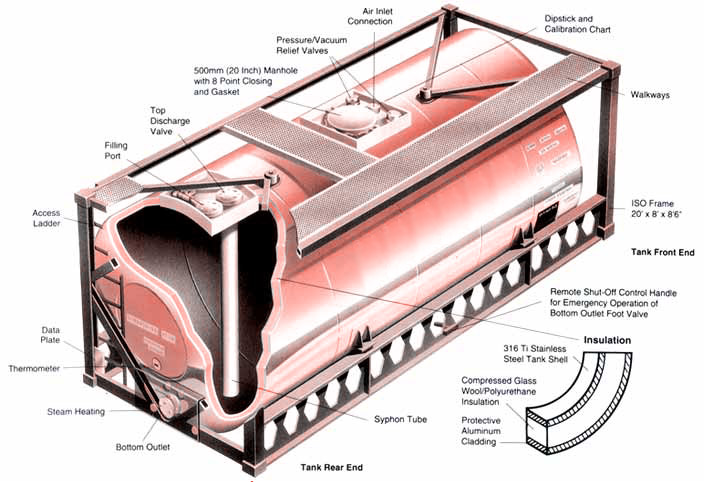 Groove frame tube mounted on a pressure vessel more liquid bulk goods, to comply with the demand on land and maritime transport, which is necessary to strictly follow the safety norms of international regulations and ISO's design.
Cylindrical tank (Tank Shell):
Although the look is a cylindrical tank itself unity, but the test pressure of structural materials, steel thickness, steel can withstand, the bottom valve device limits, whether to install liners and each has a different valve parts. Sump cabinet that is in accordance with the above and there are different categories, so that is what criteria to define what kind of cargo oil tank can be installed in the cabinet.
Framework (Tank Frame):
Shelves purpose is to support and protect the cylinder groove, and by the standard transport equipment, operation and stockpiling, its frame Chiduo must meet ISO (International Standard Organization) requirements.
Frame Type (Tank Type):
This two specifications are fully compliant with safety norms ISO's, but beam sump cabinet because cabinet light, therefore, can be loaded with respect to full-frame style slot cabinet heavier cargo capacity.

| | | |
| --- | --- | --- |
| Full Box - sump | | Beam - sump cabinet |
Frame Chiduo:
20 '(length) x8' (wide) x8'6 "(high)
Frame Chiduo:
20 '(length) x8' (wide) x8'6 "(high)
Slot cabinet volume:
21,000 to 25,000 liters
Slot cabinet volume:
21,000 to 25,000 liters
Slot cabinet Weight:
3,200 - 3,400 kg
Slot cabinet Weight:
3,200 - 3,400 kg
Slot cabinet material:
AISI 316L (DIN17441-1.4401)
Slot cabinet material:
AISI 316L (DIN17441-1.4401)
Slot cabinet Temperature:
-40 ~ 130 ℃
Slot cabinet Temperature:
-40 ~ 130 ℃
Pressure trough cabinet:
A) Working pressure 4 (BAR)


B) Test pressure 6 (BAR)
Pressure trough cabinet:
A) Working pressure 4 (BAR)


B) Test pressure 6 (BAR)
Slot cabinet Certification:
ASME VIII DIV.1, UN T11 Portable Tank, US-DOT, UK-DFT, UIC IMDG, CFR49, ADR / RID, TC, FRA, AAR600, ISO1496 / 3, CSC, TIR
Slot cabinet Certification:
ASME VIII DIV.1, UN T11 Portable Tank, US-DOT, UK-DFT, UIC IMDG, CFR49, ADR / RID, TC, FRA, AAR600, ISO1496 / 3, CSC, TIR